Share Using SoundCloud
The new WordPress block editor allows for easy sharing of audio files using hosting sites like SoundCloud.
To embed an audio recording from SoundCloud:
Upload your audio file to SoundCloud (free accounts are available).
Select the recording, and click to share.
Copy the URL.
In a new window, open your ePortfolio and add a post or page.
Add a SoundCloud block from the Embed section.
Paste the SoundCloud URL and publish.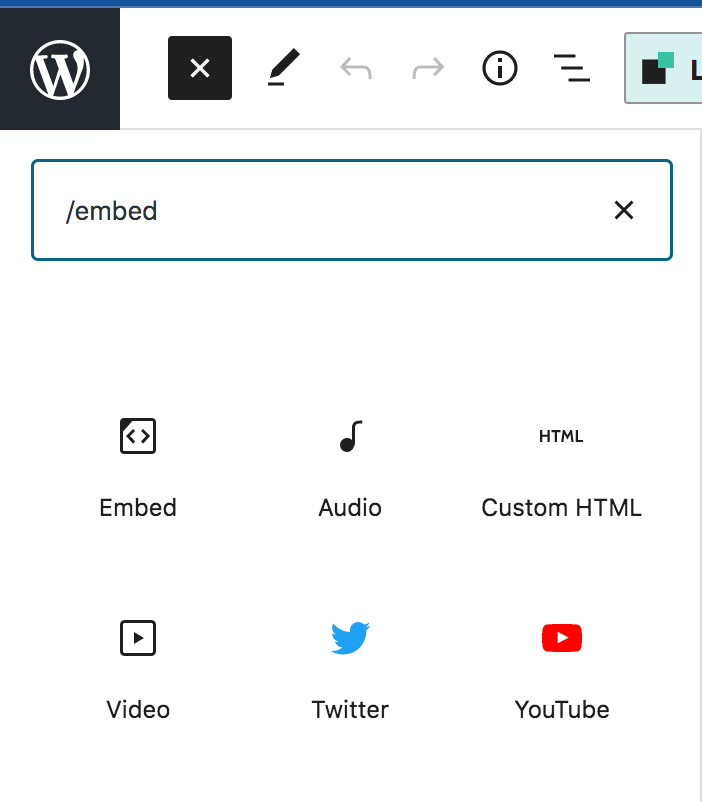 Sharing from Other Hosts
Other audio sharing hosts such as MixCloud have dedicated blocks. To share using a different hosting service, select paragraph block and hyperlink the recording.
Share or Store in Google Drive
Another option for saving (and sharing) is to store your audio file in your UNE Google Drive and share it via a link.
Download Podcast to ePortfolio (MS Word file) to see screen shots of this process or follow the directions below.
Log on to your UNE Google account and select Drive.
In the upper left corner, click the button "+ New."
Select "file upload" and upload your podcast file (wav file or mp3 file are recommended).
Open the file (do NOT convert it).
Get a shareable link by clicking the More Options button (three stacked dots) in the right corner next to the download arrow and comment bubble.
Select "share" with the icon of the + and person.
Select "get shareable link" at top of dialogue box.
Select your audience. For podcasts that you want to share on your ePortfolio for anyone who visits, choose "On: Anyone with Link" or "On: Anyone at University of New England can view" for limiting viewers to people who have logged on through UNE Google account.
Copy the link into your ePortfolio.